Community Profile: Salim Khan - A Pakistani-American Pioneer (1923-2017) - By: Ras Siddiqui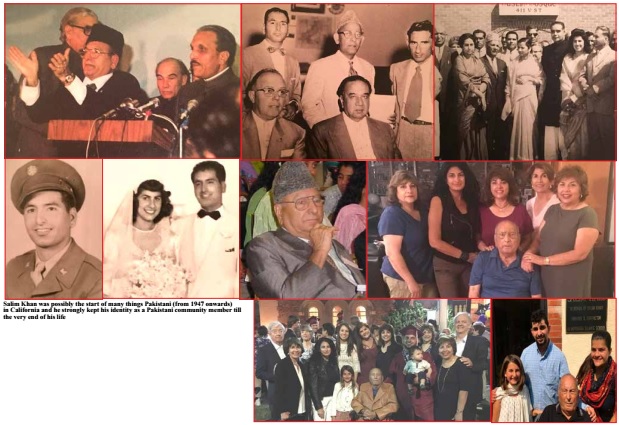 A pioneer and legend of the Pakistani-American community, not just of Sacramento but all of Northern California, Salim Khan, passed away due to respiratory failure on November 16, 2017. Khan was born in the village of Ghorgushti in Attock District of British India in the year 1923. His obituary published in the local newspaper references his brief association with British India and indicates his long association with the Pakistani-American community of this area but it did not stress enough the fact that Salim Khan was possibly the start of many things Pakistani (from 1947 onwards) in California and that he strongly kept his identity as a Pakistani community member till the very end of his life. He arrived in America and California in 1942 and was a co-founder of the Sacramento Downtown Muslim Mosque (at 411"V" Street), which is often known by its nickname "Pakistani Masjid". This was the first place built for Muslim worshippers in the United States west of the Mississippi River and remains active to this day.
I was able to briefly attend Salim Khan's funeral at the Sacramento Downtown Mosque but could not make it to his burial at the Masonic Lawn off Riverside Blvd. There should be no surprise that both ceremonies were well attended by people from all over the region and beyond. This writer first arrived in San Jose California during the 1970's and started hearing about possibly the oldest Pakistani community in America (in Stockton, Sacramento, Chico and Live Oak) soon after. But it was not until Madam Noor Jehan arrived to sing at a concert in San Francisco in 1979 (roughly), accompanied by Moin Akhtar and Reshma that I first encountered this Pakistani (and Punjabi Sikh) community which drove many miles to the venue in cars packed with their families. And a bit later we all heard stories about Salim Khan being a leader in Sacramento who could be generous to a fault. Khan donated to the building of many mosques all over the region (including in the San Francisco Bay Area). He was President of the Pakistani-American Association of Sacramento for several years when he was not heading the Muslim Mosque Association (and his wish was to be President of both).
In 1949 Salim Khan married Olga Dad, a young lady of mixed Pakistani-Mexican heritage (her father was Mir Dad and her mother, Susanna Lopez) from Arizona. Salim and Olga had five children all daughters (note their dual names) - Jamila Susan, Sylvia Shamim, Kathleen Yasmin, Sandra Parveen, and Sabrina Lisa. All kept their father's last name of Khan and included it in their grandchildren's names as well. According to his daughter Mimi (Shamin), he loved that. "Many have said that it was too bad that Salim never had a son and even he thought that many times. However, one night this last year he said to me, "God gives us daughters to care for us when we are old, I am very lucky" (when he was facing several physical challenges). For this article I sent out a request to all his daughters to share their views on his life and all five replied. Their response is presented below:
Jamila (Jamie) Khan wrote: "My father was active in local international events in order to highlight Pakistan and often participated in parades and other community programs. As the President of Pakistani-American Association, he made sure to stay in touch with the Pakistani Ambassador and Consull Generals and invited them to visit Sacramento to meet with the community. He was instrumental in having President Zia-ul- Haq make Sacramento one of his stops while visiting the US in 1982.
"He was a very outgoing and hospitable person who was always reaching out to help his people. He would invite his fellow Muslims who were new to the US to our house for dinner and would help them adjust as much as possible to American life."
Shamim (Mimi) Khan: "One of my best memories will always be travelling with Dad and my family to Pakistan. He was so excited that his grandchildren, Camille and Adam, were coming to see this country. He was so anxious that they have a good time. He didn't let them stay in the village for more than a day before taking us to Murree to stay at his condominium. Adam and his Nana Gee rode beautiful white horses and we all rode the gondola up the majestic mountain. It was beautiful. Then we went to Narran and stayed by the Lake. We went sightseeing, boating and horseback riding before returning to the Marriott Hotel in Islamabad. Nana Gee then took Camille to the Rawalpindi jewelry bazaar and bought her lots of gold jewelry. That was a very special time for all of us."
Sabrina Khan: "My father was a great man who had a long and amazing life. He played a lot of roles; son, soldier, husband, father, business owner, scholar, teacher, Mosque President, mentor, legend but I think the role he relished most was that of grandfather. I think his unwavering "will to live" was so he could be there for his grandkids. Being the best grandfather to my daughter was the greatest gift he could have given me. We never took the moments with him for granted. We always knew each good bye could be the last. I am grateful how he stayed alive as long as he could so he could be there for Lilah to listen to her stories or to play a game with her. But now she doesn't care about all his accolades and accomplishments or all the people who would take selfies with him at the Mosque. All she knows is her Grandpa, her Nana Gee is gone and she misses him dearly."
Kathleen (Kathy) Khan: "To me, my father was an interesting blend of East comes to the West. My father embraced the West but never forgot the East. My father came from Pakistan but did not play cricket but he did know American baseball and was a homerun softball player at our picnics after Mosque. He took us to (the San Francisco) bay area baseball games and we watched baseball World Series games together. My dad also loved boxing and that had a lot to do with Muhammed Ali. Ali brought Islam to the world and he was such a great showman that it made my father very proud the way Islam was being seen. In more recent times, my dad read in the Pakistan Link about a Pakistani boxer, Amir Khan. My dad and I were able to watch his fights on Pay Per View. My dad liked to follow any Pakistani athletes; he read about Kaleemullah Khan a Pakistani soccer player for the Sacramento Republic and wanted to go see him play."
Sandra (Sandy) Khan: "When we were children, there would be a curry and rice/roti dinner at the mosque after Eid prayer for everyone who attended. Dad would be busy for weeks before preparing the mosque and planning for the dinner. He had to coordinate with the butcher for halal meat because there were no halal markets then. They needed 400 pounds of meat, 100 lbs. of rice, and 30 pounds of onions among many other ingredients in order to feed all the guests. The men would cook most of the night before; Dad would stay with them in case they needed any other supplies. They would make huge rotis and we'd go to the windows to get bites of roti dipped in butter. Dad created a huge sense of community with those dinners."
To conclude, Salim Khan and some of us often did not see eye to eye on many issues. But his contribution to the Pakistani-American identity and in establishing our history in California is second to none. Like most of us immigrants he was leading a dual life (both Pakistani and American) which one can see through the responses of his daughters. There is much more that can be written about him (e.g. during events when Pakistanis here in Sacramento hosted Prime Ministers Liaquat Ali Khan and Huseyn Shaheed Suhrawardy and later General Zia-ul-Haq at the Sacramento Mosque which some protested against) but that will have to be another time. If we can borrow from the game of cricket, Salim Khan, our community elder played a long and productive innings. May he rest in peace.