SALAM Annual Banquet Touches New Frontiers for Peace - By: Ras H. Siddiqui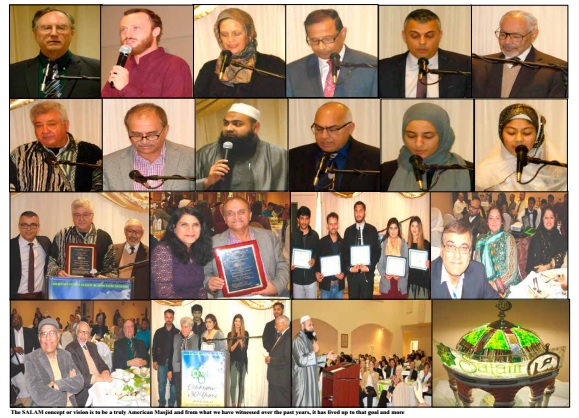 The Sacramento Area League of Associated Muslims (SALAM) held its Annual Banquet and fundraiser at its own Community Center on Saturday, December 2, 2017 with the theme of "New Frontiers for Peace".
It was a packed hall which overflowed somewhat to the outside area. SALAM has been at the forefront of the Muslim community outreach in the Sacramento area since its inception 30 years ago and has been instrumental in promoting peace especially since the dreadful events of 9/11/2001.
The invited keynote speaker was Dr Juan Cole, who shared his scholarly knowledge of history, and Ahamed Weinberg, a really unique comedian. SALAM's very own Imam Kashif Ahmad conducted the fundraiser and enhanced the spiritual aspect of the evening. The SALAM concept or vision is to be a truly American Masjid and from what we have witnessed over the past years, it has lived up to that goal and more.
The evening started off with a brief introduction by Dr Anne Kjemtrup of SALAM who was also the co-emcee of the evening along with Br Asif Haq. She said that this event was celebrating SALAM's 30th year. She also gave the audience a brief overview of the evening and then invited SrArwaa Ahmed for the Qur'anic recitation which was followed by its English translation by Sr Leena Mokeddem. Both of them deserve our praise on delivery.
SALAM's relatively new Executive Director Br Saeed Ahmed followed with official words of welcome on behalf of the Board of Trustees of the organization. He thanked everyone for taking the time out of their busy schedules to join the gathering. He said that the dinner that night had been sponsored by the Tariq Munir family. Saeed also highlighted some of the activities scheduled for the evening including recognizing those who have done wonderful things for SALAM and the local community. He then asked everyone to sit back, relax and enjoy the program. And before we move on to the next segment (Awards) it would be remiss of me not to mention the important work that Saeed and Connie Ahmed have done at the SALAM Sunday School for many years. A big "thank you" from many parents is warranted for both of them.
SALAM Board Chair Waseem Bawa and Founder DrMetwalliAmer next came on stage to present awards to two individuals who have made substantial contributions to SALAM and the local Muslim community. The first, "SALAM Distinguished Award" was presented to DrAyad Al-Qazzaz who has been a Professor of Sociology at CSU Sacramento for almost 50 years. He is also instrumental as a co-founder of SALAM and we have witnessed his incredible efforts in promoting a true and positive image of Islam over many years in Sacramento. Dr Al Qazzaz first thanked the organization for their kindness and added that he was both humbled and honored by this award. Mixing both wisdom and humor DrAyad shared with us his journey with the Muslim community in Sacramento since the year 1969 when he began teaching at Sac State. He also explained why he has supported SALAM. He said that he believed in the message of this organization and liked the way that they presented it. He said that when he moved to Sacramento, the Muslim population was less than 2,000 people. Today, it is over 50,000 or more. In 1969 there was only one Mosque which is still going on V Street. Today we have about 20 Mosques. In 1969 there was no cemetery for Muslims and today we have one, and we had no organizations promoting the rights of Muslims, and today we have several with CAIR in the lead. Referring to the media Dr Al-Qazzaz did mention The Crescent and the Pakistan Link newspapers as important outlet for our community. And that brings us to the next award, the "SALAM Exceptional Community & Public Service" which was presented to a writer for Pakistan Link (Ras H. Siddiqui) who was humbled by just being included in this category.
The SALAM Education Scholarships were presented next ByDrMetwalliAmer and Prof Rosalie Amer and Professor Ayad Al-Qazzaz to some really deserving students in the community. And this was followed by a serious academic presentation by Professor Juan Cole from the University of Michigan. Not many people are fluent in Arabic, Persian and Urdu in America but Prof Cole is fluent in all three. He was introduced by Br Asif Haq. Speaking in detail on Islamic history and about the theme of Peace in the Qur'an, Professor Cole provided some valuable insights on how his literature search into Qur'an and Peace topic yielded just a handful of references and the Qur'an and War topic, numerous. In history he spoke about sanctuary cities established in ancient Arabia (Peace Zones). He zeroed in on the Kaaba and spoke about the Prophet Muhammad (PBUH) being a member of a clan who kept the peace there and enforced it. Mecca was a sanctuary city, very unusual for that time. He spoke about the Roman and Iranian (Persian) empires invading the Middle East and how the war between the two was instrumental in the rise of Islam. The Qur'an addresses this war and when it talks about peace it is not just talking about Mecca, said Cole. "It is talking about peace in the world." Peace is one of the names of God in Islam and the revelation itself is identified as peace in the Night of Power.There was a great deal more that Prof Cole shared but space constraints limit us here.
"Messages From Youth" were next in line during which Kashir, Celene and Ibrahim proved to us why our greatest resource (our youth) have a bright future in America. A SALAM video by SrJoumanaBawa highlighted 30 years of the organization.
SALAM Chairperson Waseem Bawa spoke next. He asked the Board of Trustees to stand and also thanked "the dude that started it" all, and does not want to be recognized (DrMetwalliAmer) for his efforts in creating something really special (SALAM). He kicked things off with a financial update of SALAM (the news was good). He also spoke on SALAM's purpose and where we go from here. He presented an illustration on The Battle for Bunker Hill from the year 1786 showing a Peter Salaam in action, to share with us how far back Muslims go in this country (many African slaves brought to America were Muslims). Waseem also shared his own very complex ethnicity and US military background. He said that during his first few years in America he did not have anything like SALAM. He also spoke on the challenges faced by Muslim kids in America (post-9/11) and how SALAM can assist them.
Next, the fundraising segment was in good shape in the very capable hands of SALAM's Imam Kashif Ahmad who appealed to the spiritual aspects of giving in a very convincing manner. One can report the good news, the beautiful SALAM Mosque is now paid for and the $2.6 million loan once on it is now history. It took several years but it is now a mission accomplished. Dinner followed the fundraiser and last but not least America's possibly first hybrid Jewish-Catholic-Muslim comedian Ahamed Weinberg entertained us with his really thought-provoking and intelligent humor.