Musical Soiree by Shakila Ahmed and Suhail Rais Khan in Sacramento -By: Ras H. Siddiqui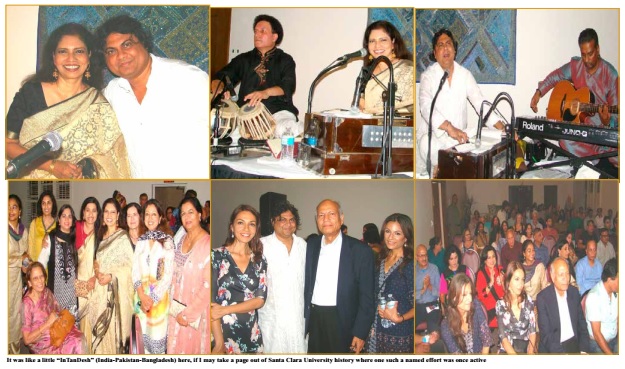 The music event on September 9, 2017 in Mid Town Sacramento drew close to a hundred Desi origin enthusiasts of Geets, Ghazals, Bhajans, Sangeets and more, which is not too unusual while taking into account the two singers slated to perform.

It was like a little "InTanDesh" (India-Pakistan-Bangladesh) here, if I may take a page out of Santa Clara University history where one such a named effort was once active. But when you have Bangladeshi origin Shakila Ahmed (vocals) from right here in the Sacramento area, and Suhail Rais Khan (sitar and vocals) visiting from Mumbai, plus assisting them, Siar Haseq (tabla) and Amir Shankar (harmonium), the evening was bound to generate high expectations. And it did meet those expectations but in an abbreviated form because one is used to staying up till the following AM for such shows and not the 10:30 PM when this one ended.

Shakila was born in Dhaka and has been trained in Indian classical music starting at age 8. She became a shagird or student of Ustad Mohammad Dilshad Khan in Mumbai in the mid 90's and since then there has been a great deal of experimentation too. She is comfortable singing pop, fusion, folk and excels in the rendition of Bengali Nazrul Geeti and Rabindra Sangeet plus Sufi Kalams. But if one was to pinpoint her forte (just my opinion) here that would be in the realm of Ghazal singing. She already has 8 albums to her credit and her music is truly representative of the entire Indian subcontinent. Her notable works include a ghazal album titled Nayee Baat, comprising of 8 ghazals composed by the famous Indian singer, Hariharan. I have her album Kisise Na Kehna for quite some time now and still enjoy listening to it. Ghazal bahana karoon is the title of Shakila's latest album which many of us have not heard before, but songs from which were included in this event. Shakila is also a freelance writer and paints for pleasure but confesses, music is her first love.

Suhail Rais Khan is a performer who has music in his blood. He is the eldest son of legendary Sitarist Ustad Rais Khan - member of the Mewati Gharana, and grandson of Ustad Mohammed Khan Saab, from a family famous for its Khayal genre of music. Suhail started his musical training at age 12 as a musical apprentice of his father. He also sought the musical patronage of Ustad Niaz Ahmed Khan Saab of the Kirana Gharana and Ustad Sultan Khan Saab, an exponent from Sikkar Gharana. Suhail entertained us at this event with his tribute to the work of the late ghazal greats Mehdi Hassan and Jagjit Singh. One wonders if he will choose sitar playing over vocals or the other way around. Readers can access more details about his career through his website (http://suhailkhan.co/ ).

Returning to Shakila Ahmed it can be written that one often takes local talent for granted. Just like Shaiq Chishty Sahib from the Stockton area whose passion for teaching music to the next generation is sometimes overlooked (he was here at this event and helped in its execution), Shakila is possibly the best Ghazal singer that we have in the region. And when she sings the words of Faiz Ahmed Faiz, it can be mesmerizing. And she did not disappoint us Faiz enthusiasts this evening by a very fine presentation of Aaey Kuch Abr.. Just that song alone was worth the trip!