A Unique August 14th in Elk Grove, California - By: Ras H. Siddiqui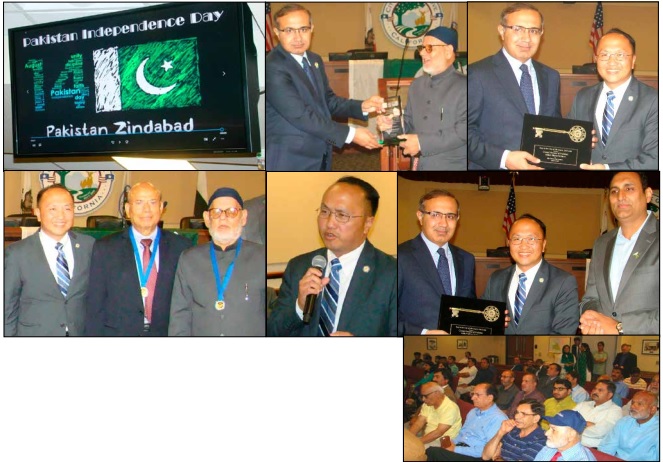 The existence of Pakistani American Association of Sacramento (PAAS) goes back several decades during which it has re-invented itself in many ways. And their Pakistani connection extends to Elk Grove which is a large suburban city to the south of Sacramento, which has seen an influx of many people of Pakistani origin who have now made it their home.

So when an event was hosted on August 14, 2018 at the premises of the Elk Grove City Council Chambers in a joint effort led by Mayor Steve Ly and PAAS officials, it gained traction. And right off the bat (which very much is in focus these days) it is worthy of note that the Elk Grove area also hosts an annual Cricket Tournament in which teams representing various parts of California participate with Pakistanis and other South Asians playing a leading role.

The proceedings began with a customary Muslim invocation. The American National Anthem was played first followed by the Pakistani Anthem as everyone stood at attention. Sabir Ahmad of PAAS made the introductions and presented a brief background of the organization. Two video clips were also shown promoting Pakistan as a country, its people and defense forces. Next, Mayor Ly, Deputy Consul Shoaib Sarwar, the Elk Grove Chief of Police, Fire Department Chief and others addressed the gathering.

During this colorful event (under the colors of the US and Pakistan) to commemorate the 71st Independence Day of Pakistan, not just one but two of the "elder statesmen" of the Pakistani-American community were recognized for their contributions to the area.

PAAS President for several years Bashir A. Choudry and area Muslim Community luminary Rashid Ahmad both received the City of Elk Grove Mayor's Medal of Appreciation for demonstrating exceptional commitment to this area from Mayor Ly. Plus (since this was a cooperative effort) PAAS presented both with a "Lifetime Achievement Award" for their services over many years to the community. Mayor Ly was also himself presented a special award from the organization. And last but not least, the esteemed mayor presented a Key to the City of Elk Grove to current Consul General of Pakistan in Los Angeles, Mr Abdul Jabbar Memon (who unfortunately could not be here). The key was received by Deputy Consul Shoaib Sarwar. Since Br Rashid Ahmad's many accomplishments have already been covered in a number of articles in this newspaper, let us conclude here with a spotlight on Bashir Sahib.

Bashir A. Choudry has left quite an imprint in the Sacramento region both within the area Pakistanis and Muslims. It should be noted that he also received a third recognition at this event that being the Consulate General of Pakistan Life Time Achievement Award for his services to the Pakistani community. And this writer can vouch for the fact that all three of his awards are extremely well-deserved. He has been a generous supporter of all positive efforts of American Pakistanis and Muslims in the area. And whatever comments were made by Mayor Steve Ly, Sabir Ahmad, Sister Durriya Syed, Imam Qasmi of the Downtown Muslim Mosque, Najme Minhaj, Basim Elkarra, Zaki Syed and others were right on the mark. For his patience, and the time and resources that Br. Bashir A. Choudry has devoted to the Pakistani American Association of Sacramento and the Muslim Mosque Association along with various other community projects in the Greater Sacramento area over the years, we as a community are truly grateful to him. And it is only befitting that his services were officially recognized here on the 14th of August by his peers and the entire community. Congratulations Bashir Sahib!