Pakistan Link Writer Wins Merit Award from New America Media - BY: Ras H. Siddiqui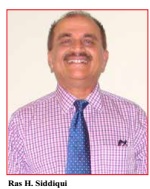 Anaheim, CA: Pakistan Link's writer Ras H. Siddiqui was recognized as a Merit Recipient in the Outstanding Cross-Cultural Coverage category for the 2017 NAM CA Ethnic Media Awards.

His article "Jews and Muslims Hold Joint Vigil at the California State Capitol" (http://pakistanlink.org/Community/2016/Dec16/30/01.HTM) published in the Link in December 2016 was chosen from amongst many entries for its content and style.

Ras has been writing for our newspaper for over 25 years and remains one of the pioneers of Pakistani-American journalism. He has written many articles on the Pakistani, South Asian and Muslim community, specifically on their activities at the California State Capitol over the years.

His writings continue to highlight the diversity of Northern California and the pluralism which remains the strength of America. The Pakistan Link Team shares this honor with Ras and joins others in thanking New America Media for recognizing his work.

The awards ceremony will be held on September 19th.