Sacramento Mayor Darrell Steinberg Honors Muslim Community's Contributions - By: Ras H. Siddiqui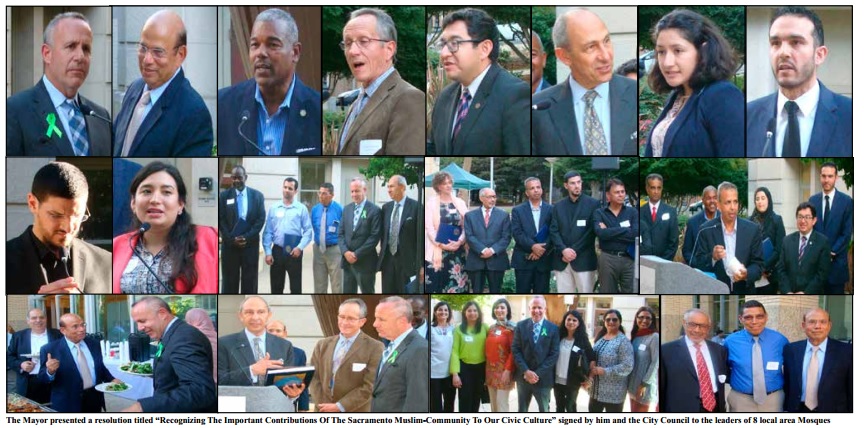 The Mayor of Sacramento, Darrell Steinberg has been active in the politics of California's capital city for over 20 years. The last elected position which he held was that of State Senator (he was also the President of the Senate). Last year he was elected Mayor of Sacramento with a great deal of support from many communities including minority groups and one of them was the area Muslim community whose vote he has not only cultivated but won over overwhelmingly.
This writer has covered many of our Muslim community events over the years where Steinberg has been a speaker or a guest, so it was not a surprise but an honor to be invited to a dinner where the Mayor and City Council recognized the contributions of Muslims to this beautiful city. And just as a side note before we get into the event itself, Sacramento also happens to have the oldest established running Mosque in America (west of the Mississippi River) located at 411 V Street.
The invitation from the Mayor's office said, "As Ramadan comes to a close, it is my pleasure to invite you to a community dinner celebrating the important contributions of Sacramento's Muslim-American community to our civic culture. In this uncertain time for our country, it is incredibly important to honor the enormous contributions the Muslim community makes to Sacramento through their philanthropy, leadership and commitment to service." Plus, this invitation from the Mayor gains some added significance because Steinberg is Jewish and his inviting and honoring the Muslim community is a factor that cannot go unnoticed.
Muslims have lived in the Sacramento area for over 100 years (many moved here from the Punjab area of what is now Pakistan). Many luminaries from our community have made the Islamic community a success in the area and some of them were present at this event. I refer to them as "old timers" who have been active in the area for over 40 years or so. One of them is Rashid Ahmad, a recently retired engineer with the State of California who spoke first at this event after Imam Yousef Hussin of Masjid Annur delivered the opening invocation.
Rashid Ahmad in his speech introduced our host, the mayor, and expressed his feelings about the event. This is truly a historic day, he said. At a time in America when the White House has failed to hold an Iftar dinner for the first time in 20 years, when the State Department declined to hold an Iftar for Muslim diplomats, the cities in America are stepping forward to give the Muslims a sense of belonging. He said that a Jewish mayor inviting the Muslim community to dinner was a significant first, something which had never been done before in Sacramento. Going into Steinberg's political life in the region Rashid went through the mayor's main election agenda, to give the area homeless population an alternative, his promotion of access to mental health care, and his quest to improve the local economy. Ahmad also went into the evolution of the Muslim relationship with the mayor since the year 2000. He said that it started with both sides being cautious, but later the ice was broken. He has done a lot for our community since then, Rashid added. He also thanked Susan McKee, Kais Menoufy, Basim Elkarra and Mo Mohanna for their help in establishing this relationship, but also pointed out that "the heavy lifting" to establish this friendship was done by Mayor Steinberg himself.
Mayor Steinberg in his speech thanked Rashid Ahmad and said that he was humbled by the generous introduction. He said that he was almost embarrassed because this was not about him tonight but this was about welcoming the Muslim-American community "to your house" - Sacramento City Hall. He thanked Rashid, Basim, Kais and Mo, and all the other leaders of the community for planting the seed and his own team here for putting in the effort to execute this event on such short notice. Steinberg also recognized other members of the City Council present including Vice Mayor Rick Jennings (District 7), Jeff Harris (District 3) and Eric Guerra (District 6). He said that this group embodies the inclusiveness of Sacramento. The Mayor also pointed out that Gabriela Herrera from Congresswoman Matsui's office was also present. He named many leaders from the local interfaith community (Christian, Jewish and Muslim) present and added that the good relationship between the Jewish community in Sacramento (which he is a part of) and the Muslim community should be a model for people far beyond Sacramento. The mayor also recognized various local Muslim organizations and groups (too many to name here) who are doing great work in the Sacramento community. Steinberg also recognized and welcomed some special guests from Philadelphia, the daughter (Khaliah Ali-Wertheimer) and grandson (Jacob) of the late great boxing legend Muhammad Ali. He ended his speech with the words "Eid Mubarak" since this event was held soon after the month of Ramadan.
The Mayor presented a resolution titled "Recognizing The Important Contributions Of The Sacramento Muslim-Community To Our Civic Culture" signed by him and the City Council to the leaders of 8 local area Mosques. Others including Vice Mayor Rick Jennings, Jeff Harris, Eric Guerra and Gabriela Herrera also spoke on the occasion along with CAIR's Basim Elkarra and Yannina Casillas. The Mayor was presented a book and a coffee mug on behalf of the local Muslim community.






In closing that mention of this dinner becoming an annual event was indeed welcome. This evening we hope will become a Sacramento tradition like the CAIR Capitol Ramadan and SALAM Interfaith Iftar's which have already become so in Sacramento. Welcoming Muslims like other American groups to City Hall need not be a rare novelty. Our community is here to stay and is a permanent contributing part of the American landscape. But just one suggestion - let us keep this non-religious event scheduled after the month of Ramadan. Because it is certainly easier for Muslims to celebrate and relax when they are able to eat and especially drink during the day. Thank you, Mr Mayor!