"Imran Khan's Sister Visits Sacramento for a Noble Cause" - By: Ras H. Siddiqui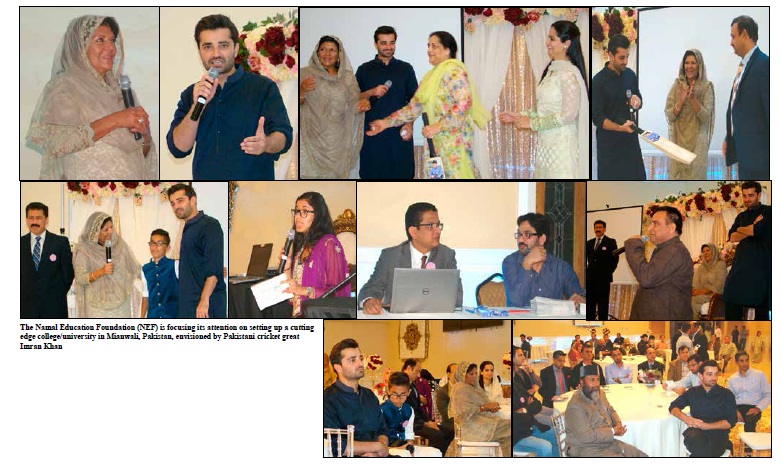 May 14th was Mother's Day in America and celebrated worldwide on the same day. In Sacramento, California it took a slightly different turn as the local "Friends of Namal" Chapter held a fundraising event for Namal Knowledge City (https://www.namal.edu.pk/) through a grouping called the Namal Education Foundation (NEF) which is focusing its attention on setting up a cutting edge college/university in Mianwali, Pakistan, envisioned by Pakistani cricket great Imran Khan.

And to make the pitch for funding this effort, Khan Sahib who is (regrettably?) too busy establishing his credentials as a politician in Pakistan these days, sent his sister Aleema Khan and Pakistani showbiz personality Hamza Ali Abbasi to California's capital city ( and to various other cities in North America) to help him generate funds and enthusiasm for this project. The Namal effort somewhat mirrors the Shaukat Khanum Memorial Cancer Hospital and Research Center (http://shaukatkhanum.org.pk/ ) with the obvious difference that the target here is a world class higher education facility and not a cancer treatment center.

The event in Sacramento suffered through some last minute challenges as the venue was changed just a few hours before it was set to begin. But that did not seem to be a big negative as diehard supporters of Khan Sahib (and PTI) showed up in reasonable numbers to make things lively at the Eden Gardens Event Center in Elk Grove.

The venue was just right and could have accommodated some more people but with a late start (things appeared to go somewhat erratically in the beginning) and with technical difficulties, which were overcome in a short period of time, taken in good humor by the audience. Our young emcee for the evening Shafa Ilyas started things off well as Imam Qasmi of the Downtown Sacramento V Street Mosque delivered the invocation. Like many others in Sacramento, Imam Qasmi is also a fan of Imran Khan the cricketer and he pledged to hold a Friday fundraiser for Namal in the near future. A documentary about Namal College followed, to inform us of what is happening at the college and what the goals and aspirations are for this institution as Imran Khan wants to re-create an Oxford in Pakistan and attract top quality faculty to teach there.

Aleema Khan was invited to the stage and assisted with a slide show she gave a very long presentation on the Namal project. Most of the event was conducted in the Urdu language and some exact translations into English may not be possible here but hopefully the spirit of what was said will be conveyed. Aleema Sahiba did mention at one point that Imran Khan (Niazi) was not only her brother but he was also her leader. She added that he does not get discouraged easily and proof of that determination is his leading the Pakistan Cricket Team to its winning the World Cup and later successfully setting up the Saukat Khanum hospitals first in Lahore, then in Peshawar and soon one in Karachi. She also gave some details on the project.

The land available is approximately 1000 acres out of which development is planned on roughly half. She added that the location by the lake that it has is very beautiful too. She did get off on a few tangents, one in which she explained that people talk about discrimination against women in Pakistan yet overlook their resilience. She said that the women of Pakistan are not weak and happen to be tough and accomplished and are making their mark in many fields.

Going back to the project she said that Namal was not just another charity school but that a world class university was what was envisioned, where admission will be based on merit and scholarships are, and will continue, to be given. The goal is a "Namal Knowledge City," she said. She explained that what they had in mind was to emulate the Israeli model of attracting the Pakistani overseas community to join in an incremental approach to develop centers of learning in their home country. She also said that we want to make the rural areas of Pakistan much more productive and educated. To attract overseas visitors a "resort" concept is planned where overseas Pakistanis can visit with their families and have a place to stay, which they can be proud of. The total cost of this effort is projected to be around $200 million and that is why gatherings such as this one are being held, to make an investment that will be productive far beyond our lifetimes.

Hamza Ali Abbasi next elaborated on our Islamic identity and expressed his disappointment at the plight of Muslims worldwide today. He attributed this dismal situation to the abandonment of our pursuit of knowledge, ironic since the word Iqra (read) is central to Muslim beliefs and the first word revealed in the Holy Qur'an. Abbasi lamented the fact that the Muslim world does not have top ranked universities. He added that there are just two countries in the world that were founded on the basis of religion- Israel and Pakistan and that Israel brought back world Jewry to participate in the development of their knowledge-based economy and what did we do? We just emulated Western mannerisms and clothing and abandoned our basics like pursuing education! Hamza stressed that the Namal project is an attempt to change our destiny.

The fundraiser continued next, during which Imran Khan- signed cricket bats were auctioned off for as much as $2,000 and autographed cricket balls went for a lesser sum. But the evening was quite productive as up to $80,000 was reported to have been raised.