Pakistani American Day at the California State Capitol - By: Ras H. Siddiqui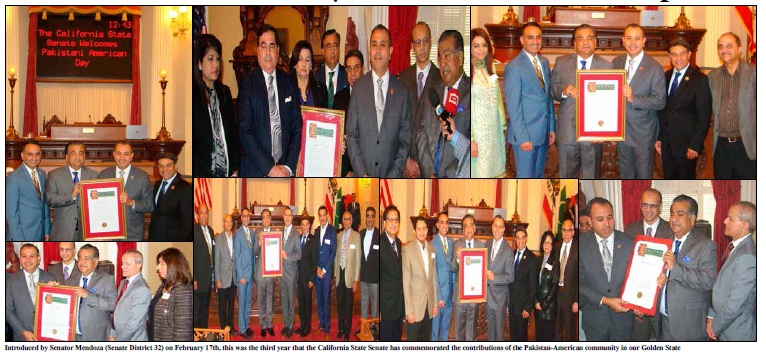 A select group of high-profile Pakistani-Americans, some locally from the Sacramento region, were joined by attendees from the San Francisco Bay Area and from Los Angeles to witness the presentation of Senate Concurrent Resolution 26 proclaiming March 20, 2017 as Pakistani-American Day at the California State Capitol.
Introduced by Senator Mendoza (Senate District 32) on February 17th, this was the third year that the California State Senate has commemorated the contributions of the Pakistan-American community in our Golden State. Joining Senator Mendoza once again on this occasion was Ali Sajjad Taj, Mayor Pro Tem, City of Artesia, CA; this year the occasion had the added support of newly elected California Assemblymember Ash Kalra (Assembly District 27) from the San Jose area. Representing Pakistan was the Consul General of Pakistan in Los Angeles, Abdul JabbarMemon.
Addressing the gathering, Senator Mendoza thanked everyone for being present. He said that he represents the Southeast of Los Angeles County and a part of Orange County and that he has been doing this for three years now. He added that it has been an honor and a privilege for him to present this resolution on the senate floor. He stated that every year we get the opportunity to inform others here, to educate them about the Pakistani community, and the positive contributions of Pakistani-American in our state, and in our country. He said that this year is even more important for us to be commemorating Pakistani American Day with all that is going on in the country. We need to address all the misinformation that is out there and recent incidents of hate crimes. We need to promote our community (as one), said Mendoza. The Senator also brought in copies of the resolution for everyone to take home.
The Consul General of Pakistan got (the only) framed copy of the resolution. Representing our country of origin MrMemon said that it was a privilege and a pleasure to be in Sacramento to witness this event and that it was a tribute to the patriotism, achievements and contributions of the Pakistani community based in California. He said that we are proud of our people and greatly thankful to Senator Tony Mendoza for spearheading this meaningful resolution. He added that he was also grateful to Assemblymember Ash Kalra for supporting it and that Ali Sajjad Taj deserves a special mention for his tremendous efforts. The Consul General also thanked members of the Pakistan-American community present, some of whom had traveled long distances to witness the presentation of the Resolution.
Text of the Resolution:
WHEREAS, Pakistan proclaimed its independence on August 14, 1947, and has fostered a close relationship with the United States of America; and
WHEREAS, Pakistanís history of sovereign independence was a great step forward for the cause of freedom, and the countryís history has inspired, supported, and assisted nations around the world in their pursuit of liberty, justice, and equality; and
WHEREAS, With diligence, fortitude, and an enduring belief in the American dream, Pakistani immigrants have helped to turn emergent areas within the State of California into thriving and respectable communities, while raising their children to be productive Pakistani Americans; and
WHEREAS, Pakistani Americans have become an integral part of mainstream American society and have made important contributions as Californians in the fields of finance, technology, law, medicine, education, sports, media, the arts, the military, and government, as well as other areas; and
WHEREAS, There remains much to be done to ensure that Pakistani Americans have access to resources, have a voice in the United States government, and continue to advance in the political landscape of the United States; and
WHEREAS, Celebrating Pakistani American Day provides the people of California with an opportunity to recognize the achievements, contributions, and history of Pakistani Americans, and to appreciate the challenges and opportunities before Pakistani Americans; and
WHEREAS, As the Pakistani American community prepares for a new era and creates a new history, Pakistani Americans must instill in younger generations the proper appreciation for the courage and values of their forefathers, a deep sense of affinity with their roots, and pride in their own cultural heritage so that they may better contribute to the great State of California, rich with ethnic and cultural diversity; now, therefore, be it
Resolved by the Senate of the State of California, the Assembly thereof concurring, That the Legislature hereby proclaims March 20, 2017, as Pakistani American Day and urges all Californians to join in celebrating Pakistani American Day; and be it further
Resolved, That the Secretary of the Senate transmit copies of this resolution to the author for appropriate distribution.